You may be flying off to get away from it all, but (as if you didn't know) your diabetes won't be taking a break. In fact, you may have pay even closer attention to your glucose testing than usual to feel relaxed and in control.
Air travel can affect your glucose levels in all sorts of unexpected ways, from getting up at the crack of dawn for an early flight, to different foods and meal times, the stress of delays and crossing time zones.
Here's a checklist to help keep your testing routine on track while you're travelling:
A few weeks before you go, ask your GP for a letter stating that you have diabetes and listing all the testing equipment and medication you need to travel with. Order supplies from the pharmacy in plenty of time.
Download your recent meter data and use your FreeStyle Auto-Assist or FreeStyle Auto-Assist Neo software to print off your glucose levels and insulin doses, in case you need medical help while you're away. Keep the report with your travel health insurance documents.
Pack double the amount of testing supplies you think you'll need, such as a spare glucose meter, testing strips (for glucose and ketones), lancing devices, lancets and meter batteries. Remember the FreeStyle Optium Neo has a built-in ketone testing feature – one less extra meter to pack.
When planning your packing, think 'what if'? What if you miss your flight, or it's badly delayed? What if your plane is stuck on the tarmac for hours? What if your plane is diverted? If you expect the worst, you'll feel better able to cope if something unexpected happens.
Keep your glucose testing equipment in your carry-on luggage. FreeStyle InsuLinx and FreeStyle Optium Neo meters and supplies will go through airport X-ray machines safely (but for the Navigator II and other continuous glucose monitoring (CGM) devices as well as insulin pumps may not, so take advice in plenty of time).
Take some skin wipes with you for when you need to test but can't wash your hands. If you use FreeStyle Optium Neo the test strips come in individual foil wrappers which will help keep them contamination-free.
If you use an insulin pump or a CGM system, you may be asked to disconnect it on the aircraft. Make sure you have your another FreeStyle meter and test strips handy for easy, accurate manual testing during the flight.
Aim to test your glucose frequently while you're travelling, so you can head off a hypo if necessary, especially at key points such as:
- when you first arrive at the airport
- just before you board the plane
- before you have an airline meal
- before you settle to sleep on a long flight
- just before landing
Remember to change your glucose meter time settings if you're crossing time zones. If you travel east, your day will be shorter; go west, and it will be longer. Ask your diabetes care team how you might need to adjust your insulin doses accordingly.
If you're going somewhere hot, keep your FreeStyle meter and test strips in a coolbag with your insulin.
For more information on having a safe and happy holiday with diabetes, check out our travel video below.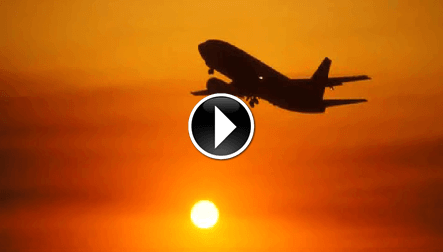 Over to you!
How do you manage your diabetes when you're flying? And what are your top tips for stress-free travel? Please let us know on our Facebook page!