How do you deal with life's ups and downs? The first step is to be aware of them. Through advances in technology, glucose monitoring outputs can now very closely reflect the fluctuations in glucose that you experience throughout the day. That's right, the extra little treat you had is no longer a guilty secret!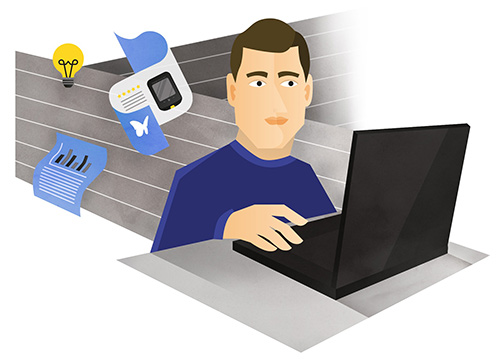 Known as Ambulatory Glucose Profile (AGP), glucose readings collected over several days or weeks are plotted as if they occurred within a single 24-hour period, compared with your individual target range and presented to make glycaemic patterns more recognisable. This provides much more information than previous glucose testing which could only provide isolated readings and an average. AGP is one of the core elements behind the FreeStyle Libre system, making the complete glycaemic picture1 a reality.
At the heart of AGP is this simple fact; if you have diabetes you now have the opportunity to understand your body's natural glucose rhythms in the form of data. Technology has invited us to become data literate, to begin building an understanding that can even help inform our diabetes healthcare professionals. The insights you gain from AGP will never replace healthcare professional guidance, but with the FreeStyle Libre system you can get more intimately in tune with your body's behaviour – which will help both you and your healthcare team plan your care in the best way for you personally.
This comes as the National Director for Patients and Information at NHS England, Tim Kelsey, took to the stage at the first ever Diabetes Professional Care conference in November last year. His message was simple; "Everyone now has better access to health data. From April 2015 the UK became the first country in the world to offer everyone access to their own medical records, GP appointment bookings and repeat prescriptions". It only takes a little bit of imagination to think how wearable technology may be able to tap into people's medical records, as well as take ongoing measurements, to provide us with better personal health insights.
In terms of diabetes management this couldn't have come at a better time. As published in the New Statesman in November 2015 "There are an estimated 3.2 million people with diabetes in the UK, already one million more than ten years ago, and the figure is predicted to reach four million by 2025". More than ever – as these numbers grow – people with diabetes need to take greater responsibility for their own health.
Better access to data is the difference between reactive and proactive health. Whilst we all aim to monitor our glucose a certain number of times a day, the reality is it's difficult to fit into everyday life. This means we may only monitor when we feel that something may be wrong; a reactive check based on perceptions or concerns.
Through better data literacy it's possible to be proactive with health. The Freestyle Libre sensor for flash glucose monitoring allows you to visualise what happens to your glucose levels hour by hour2. Information is power because with information as detailed as this you can work more efficiently to limit variability in your glucose levels, part of 'The Triangle of Diabetes Care' which we've discussed here.
Of course, all of this technology has been developed for you. It's unlikely any of us are going to be data scientists, but AGP does provide us with the opportunity to be far better informed about our diabetes management and overall glucose control.
---
1. For a complete glycemic picture, scan once every 8 hours.
2. A finger prick test using a blood glucose meter is required during times of rapidly changing glucose levels when interstitial fluid glucose levels may not accurately reflect blood levels or if hypoglycaemia is reported by the system or when symptoms do not match the systems readings.