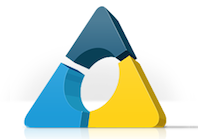 What's your long-­‐term goal in taking care of your diabetes? Most people would say to enjoy their lives without diabetes getting in the way – and to avoid complications in the future if at all possible.
So as well as managing the everyday ups and downs of diabetes, it's likely you focus on your HbA1c -­‐ the standard, reliable marker of how your glucose levels have been performing over the past 2-­‐3 months.
But what if there was a way to improve your day-­‐to-­‐day control and your long-­‐term health and wellbeing, by paying attention to not just one treatment goal, but three?
This is the thinking behind The Triangle of Diabetes Care, an exciting new clinical approach to the way you manage your diabetes.
Three goals for better outcomes
'Of course, the goal of improved glucose control is still very important, but the simplified notion that the "lower the HbA1c the better" should be modified to incorporate additional aspects of glucose management,' says Dr Ramzi Ajjan, Consultant Physician and Associate Professor of Diabetes and Endocrinology at Leeds Teaching Hospitals NHS. 'There is clear evidence that good management at each point of the triangle will contribute to improved outcomes.'
So what are these additional aspects? The Triangle of Diabetes Care takes into account three elements of your 'glucose experience' and not just one. The three points of the triangle are;
• Improving HbA1c
• Reducing the frequency of hypoglycaemia
• Limiting glucose variability (swings between high and low glucose)
For the first time, The Triangle of Diabetes Care brings together evidence that they are all important, not only to help manage the everyday ups and downs of diabetes, but also to reduce the risk of long-­‐term complications and to improve overall health and wellbeing.
In future articles we'll look at each of the three points in more detail.
If it seems like overdoing it to have three treatment goals, when it can be tough enough trying to achieve just one, there's good news: you don't have to score top marks on all three to gain benefits.
'Working within The Triangle of Diabetes Care means that even if one treatment goal cannot be achieved, an improvement in one or both of the other goals will have a positive effect on overall health,' says Dr Ajjan.
Discover the power of three
So where can you find out more about The Triangle of Diabetes Care, and how to turn the science into practical action to help your diabetes management? All you need to do is register for FreeStyle Progress. As well as meter warranties and meter accessories you'll find more on the Triangle of Diabetes Care. Why not take a look now?