The sun is shining, summer is closing in, and the UK's runners are out in force. We've already seen over 36,000 people run the Virgin London Marathon and dozens of other marathons are lined up in the UK. It's officially marathon season.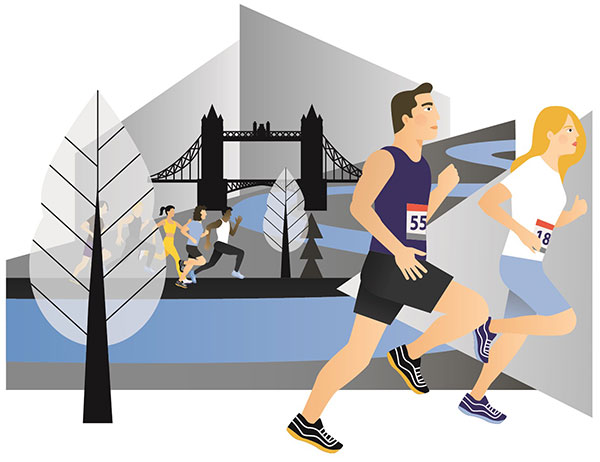 If you're managing diabetes, sports like running have proven health benefits. Studies have shown that exercise in people with diabetes promotes weight loss and maintenance, hepatic and peripheral insulin sensitivity, glucose uptake and utilization, and cardiovascular health1,2,3,4. Muscles that are working use more glucose than resting muscles which leads to lower blood glucose levels. This means there may be a risk of your glucose levels falling too low, possibly triggering a hypo5.
So if you're keeping active you should pay extra attention to your glycaemic management, especially if you're taking nutritional supplements that may affect glucose levels further6. Before your next run it's best to take precautions to keep you well and performing at your best. Be sure to speak with your healthcare professional to advise what steps you can take.
You should also pay attention to the mental aspects of running, as they are equally as important as the physical aspects. This means mental preparation by setting yourself training goals, overcoming potential barriers through planning, and using runs to prove to yourself that you can achieve your goals!
This then creates two challenges when you're running a marathon; how to manage your diabetes effectively without affecting performance and mentally preparing your body for the exercise. As there is a risk of blood glucose levels dropping too low, regular testing is recommended. However, doing blood glucose tests whilst running would require regular stop-offs; so whilst using FreeStyle Optium Neo blood glucose monitoring system is a monitoring option for people with diabetes, it may not be the most suitable choice during a race to the finish line.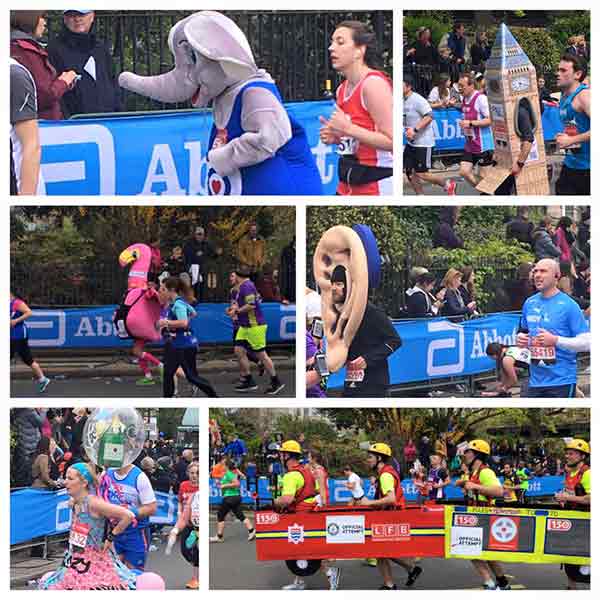 A top tip from Neurologist and Medical Director at Abbott, Dr Beth McQuinston, is to tie your exercise into everyday life so that it becomes a habit. 'Tie your exercising to triggers – like making a pot of coffee or putting on your shoes – to make the process of getting up and out there automatic and something you enjoy!' It might be that you chose to tie in the exercise so that it best fits into how you manage your diabetes, by planning your running distance and then calculating necessary sugar intake.
We spoke to Nikk Shilvock, the Head of Maths at Manshead School in Dunstable, who, after consulting with his healthcare professional, has been using the FreeStyle Libre flash glucose monitoring system whilst running. As a keen athlete he has traditionally found it difficult to manage his glucose levels whilst running, often continuing until he felt faint, with only his body's signals providing him with guidance about his glucose levels.
By using the FreeStyle Libre system, alongside his running watch, Nikk has been able to monitor his speed and glucose much more precisely than in the past*†, calculating what his sugar intake should be. He can now check his glucose frequently, building a data profile about how his body responds to his running.
It's been great to hear from Nikk who explains how the FreeStyle Libre system has helped him live life to the full integrate running into his life, making him feel more confident with managing his diabetes while staying active. Nikk's top tips for marathon runners are: calculate your necessary sugar intake as he does and also be wary if you are using running gels, as these can kick in at different times.
Feeling inspired why not enter for the 2017 Virgin Money London Marathon
* PLEASE BE AWARE: Intense exercise may cause your Sensor to loosen due to sweat or movement of the Sensor. If your Sensor comes loose, you may get no readings or unreliable readings, which may not match how you feel. Follow the instructions to select an appropriate application site.
†A finger prick test using a blood glucose meter is required during times of rapidly changing glucose levels when interstitial fluid glucose levels may not accurately reflect blood glucose levels, or if hypoglycemia or impending hypoglycemia is reported or the symptoms do not match the system readings.
1. Diabetes Prevention Program Research Group. Reduction in the incidence of Type 2 diabetes with lifestyle intervention or metformin. N. Engl. J. Med. 2002;346(6):393–403.
2. The Look AHEAD Research Group. Long-term effects of a lifestyle intervention on weight and cardiovascular risk factors in individuals with Type 2 diabetes mellitus: four-year results of the Look AHEAD trial. Arch. Intern. Med. 2010;170(17):1566–1575.
3. Conn VS, et al. Meta-analysis of health behaviour interventions in Type 1 diabetes. Am. J. Health. Behav. 2008;32(3):315–329.
4. Conn VS, et al. Meta-analysis of quality-of-life outcomes from physical activity interventions. Nurs. Res. 2009;58(3):175–183.
5. Yonk, LM et al. Exercise-related hypoglycemia in diabetes mellitus; Expert Rev Endocrinol Metab. 2011 Jan 1; 6(1): 93–108.
6. Faulkner, MS. Cardiovascular fitness and quality of life in adolescents with type 1 or type 2 diabetes. J Spec Pediatr Nurs. 2010 Oct;15(4):307-16.