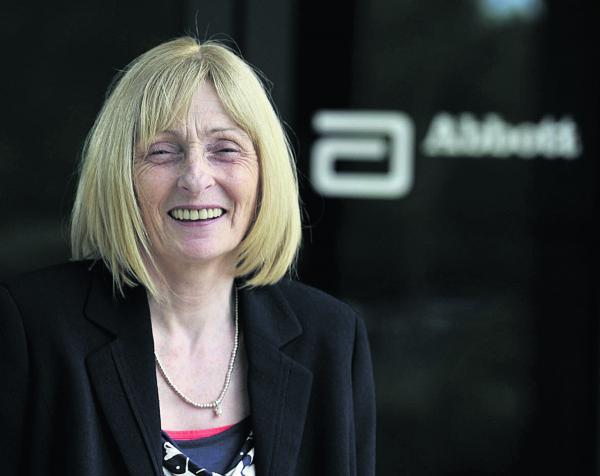 Bringing in new machinery, setting up new processes and recruiting new staff to manufacture FreeStyle Libre sensors at the Abbott Diabetes Care's Witney plant is a huge task. But Site Director Pat Cole approaches it with a commitment to teamwork and an enthusiasm that is both unstoppable and compelling.
'We're not just a manufacturing plant, we also have Research and Development on site as well as clinical and regulatory departments all under one roof. We have a diverse organization here ranging from PHD level scientists and experienced engineers to shop floor staff, accountants and HR.
The Witney plant already produces almost 2 billion FreeStyle Optium blood glucose and ketone test strips every year, but the introduction of FreeStyle Libre sensors in addition to this capacity brought new challenges.
'Anyone who works in manufacturing wants a new product, every one can feel the excitement that it brings,' she says. 'When new technology is introduced it changes your way of thinking and that seeps into everything that you do.
However, it is the unique nature of the FreeStyle Libre system that really excites the team. 'We could see very early on that FreeStyle Libre has the potential to change people's lives,' says Pat. 'I have family members who have Type 1 diabetes and I knew what this product could do for them. So the combination of the excitement of the manufacturing challenge and then seeing the potential of what the product could achieve was tremendously exciting.'
Highly automated pieces of equipment – all of them bespoke to the specific requirements of FreeStyle Libre sensors– were commissioned, built and validated. This meant creating new spaces to house them all, including new 'clean rooms', which are highly regulated environments to avoid any possibility of contamination in the manufacturing of the sensors.
'It's hard work and complex stuff we are doing, and there is a lot of pressure,' Pat admits. 'We typically design all equipment ourselves which is why it takes time to build capacity to cope with the demand for the FreeStyle Libre sensor.'
'But I would say that FreeStyle Libre sensor has brought such a new energy to the site. Staff feel as though they are on the cusp of something really genuinely transforming. Some days you feel as though you could touch that energy.'
Validation is at the heart of the manufacturing process at Witney; in the case of the FreeStyle Libre sensor, it means ensuring that every single sensor is exactly identical and can be replicated over and over again.
'Whether we're making ten sensors or 10 million sensors each one has to be the same,' says Pat. 'With validation, we provide proof that every sensor will be identical.
Pat is confident that systems are in place to build up the volume of sensors that can be manufactured on site. 'We are certainly making a lot more sensors than we were making a year ago, that's for sure,' she says. 'We will scale up throughout 2016 and 2017. We've recruited between 60 and 70 new people and we have plans over the next couple of years to hire a further 140 members of staff. It's a great feeling to see a lot of new people joining.'
But while the Witney site has already seen major changes, Pat believes there is much more to come. Having worked at Abbott Diabetes Care for 15 years, she wishes she were starting her career all over again to experience it all. 'I think the technology will continue to evolve, and as we start to manufacture more sensors in big volumes, this will change the face of what we do and how we work,' she says.
'I can't think of a better time to be starting your career with us than now,' Pat says. We call it 'the Witney family' because it really does feel like that. When you add the FreeStyle Libre system launch to that it is a very special time.'