Disclaimer – The author's views are entirely his own and may not reflect the views of Abbott.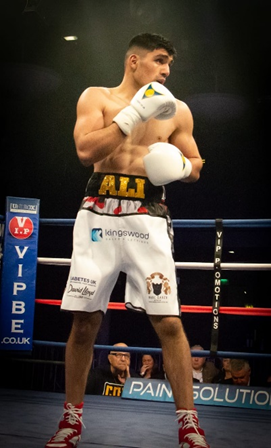 I was diagnosed with diabetes at the age of five, when I suffered a hypo at home. My mother knew something was wrong; she had never seen me behave in such a manner and be so out of control. She phoned the ambulance, they took me to the hospital where I was diagnosed with type one diabetes.
Sport was a part of my life from a young age. As a youngster, I was involved in football, karate, rugby and boxing.
My family is my support network
I have a very caring family and my mother has always been there for me. I remember as a child when I was nine or ten years old, I was playing for the local 11 a side football team on a Sunday morning. My mother would come and watch me play.
During one game, my mum saw me do a funny dance on the pitch. I was suffering from a hypo. I still remember my mother running onto the pitch to feed me a hypo stop gel, fruit and a chocolate bar and maybe a soft drink too! I came back round within minutes.
I chose boxing
At the age of fifteen, I decided to focus on boxing as my favourite sport. I took part in boxing because I am very competitive and don't like losing. In football for example, you can blame your team mates for defeat whereas in boxing you have only yourself to blame.
Boxing has helped me to control my diabetes, as I have to watch my diet, consume the right foods which help me control my sugar levels and keep them in the target range.
I have competed thirty-four times as an Amateur boxer and I have won twenty-nine times.
My journey to getting my professional license
I struggled to get my professional boxer's license to compete because the ringside doctors wanted to know what my sugar levels were in-between rounds, which meant repeated finger pricking, taking gloves off and interrupting my concentration on the game.
I was lucky to be seen by a leading diabetes consultant, who works with several high-profile sportspeople and he introduced me to the FreeStyle Libre system. He told me to use the sensor which has been the best piece of kit I have used to this day.
The FreeStyle Libre system helps me manage my diabetes
The flash technology means I can be aware of when my sugar levels are rising or going down with a simple scan.* During training, I use the FreeStyle Libre system to see how my sugar levels are; even my coaches are aware of how to check my sugar levels because I use the FreeStyle LibreLink app** on my mobile phone so it's easy for them to scan my sensor and see my results.
If it wasn't for the FreeStyle Libre system, I don't think I would have been granted my professional boxing license. It works fantastically during training and outside of it. My diabetes control is better managed with this technology.
I am now undefeated 6-0 as a professional boxer and will be looking to box for titles in the near future. The FreeStyle Libre system will continue to be my partner on this journey helping me to manage my diabetes effectively which is an important part of my success.
Muhammad Ali is the first professional boxer with type 1 diabetes in the UK and a FreeStyle Libre ambassador. Find out more at www.muhammadaliboxing.com; he tweets @MuhammadAliBox.