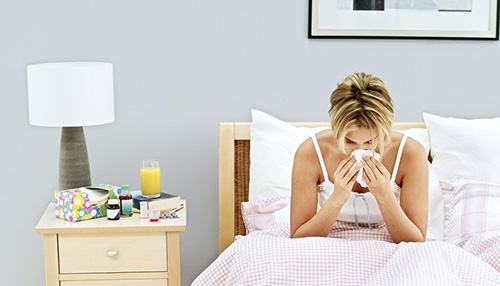 If you have diabetes, colds and other common illnesses can be troublemakers. A bad cold, particularly if you have a fever, can put you at risk of developing diabetic ketoacidosis (DKA), one of the potential complications of diabetes. To prevent this happening, you need to know how to recognise the signs and symptoms of DKA and take the right precautions.
What is DKA and what causes it?
DKA is a disruption of the body's chemical balance caused by an excessive level of chemicals called ketones in the blood. Ketones are chemicals produced when your body gets energy by breaking down fat instead of sugar. Using stored fat for energy is perfectly natural – everyone who diets or exercises produces ketones. But, ketone production is normally controlled by insulin – problems arise when there is not enough insulin available.
When might I be at risk of DKA?
The risk comes when something either increases your insulin requirement or reduces the insulin available.
When you are ill with an infection or other acute illness, especially if you have a high temperature, your body burns up energy faster. At the same time, the illness often spoils your appetite so you do not eat properly. This increased demand for energy, coupled with reduced energy intake, triggers ketone production. If your insulin levels are low too, DKA becomes a real risk. This is why it is vital, however ill you feel, you try to eat or have sugary drinks and continue to take your insulin, even though you may have eaten very little.
How will I know if my ketone levels are raised?
If your ketone levels are raised, blood glucose levels will also usually be high.
You will probably have one or more of these symptoms too:
• Feeling thirsty all the time
• Urinating more frequently
• Having dry or flushed skin
• Feeling or being sick
• Feeling tired and/or confused
• Finding it hard to breathe
• Pain in your stomach
• Breath that smells of nail varnish remover
The problem is many of these could equally be symptoms of another condition, so the best way of finding out if you have high ketone levels is to test for them.
How should I test for ketones?
You can test for blood ketones with FreeStyle Optium Neo or the FreeStyle Libre System. It is as easy as blood glucose testing. You simply use a different kind of test strip but the technique is the same. Watch our video guide to find out more about how to test for blood ketones with FreeStyle Optium Neo.
When should I test for ketones?
Don't wait for symptoms to appear. Ask your GP about testing your ketone levels, especially if you have Type 1 diabetes. Remember, prevention is much better than cure, especially when it comes to DKA.