Disclaimer – The authors views are entirely her own and may not reflect the views of Abbott Diabetes Care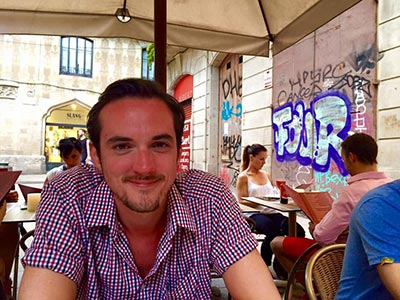 Days into my new life with Type 1 diabetes, while still in hospital, I was online looking for diabetes information. I was looking for the solution to my new problem. Unfortunately, I didn't find the solution but I found a growing community of people going through the same thing, also looking for a solution. This was in 2012 and I've used the internet for my Type 1 diabetes in one way or another ever since.
I've seen the diabetes online community (DOC) grow in this time, and it shows no sign of slowing down. People affected by Type 1 diabetes are using different communities, websites, tweet chats, Facebook groups and YouTube channels to tell their story, share their advice, generate awareness or raise funds for the condition.
The reason I'm active in the DOC is because I can give, and take. I can give the community my experiences, thoughts and frustrations. Whether this is purely to get things off my chest or to start a discussion, it's talking to people who know what you're talking about. When I post about my glucose levels not behaving, I receive messages of support and genuine empathy. I see others experiencing the same thing and it reminds me it's not just me. Surely that can only be positive, right? I think so.
I definitely take more from the community than I give. There are some great personalities with Type 1 diabetes online, and organisations that are sharing all sorts of content about the condition. You can learn something every day of the week, from research breakthroughs and the latest technology and treatment options to meet-ups and advice. I think it's a positive space for people affected by the condition – including parents, siblings, partners and everyone else who loves someone with Type 1.
I've got to know so many people with Type 1 through networks like Facebook and Twitter, and I've gone on to meet these people at events, conferences and meet-ups. The community is so active it's spilling offline, with events all the time in the UK, Europe and around the world.
The DOC is taken very seriously by its members. It seems to self-regulate successfully and I haven't seen or experienced anything negative or harmful directed at anyone with diabetes. The DOC gives us a voice – a powerful one.
The DOC will continue to grow and maybe one day it might be used by medical professionals and health services like the NHS to deliver diabetes services. But could this work? One example might be DAFNE (Dose Adjustment For Normal Eating), a carb-counting education course for insulin users. I can see this working well online.
Some people say they get more from the DOC than from their health service. Although, for anyone to say that in the UK, I suspect they see their GP instead of making the most of their specialist diabetes team. I highly recommend sticking to the advice of your diabetes team because this is the danger of the internet in today's world: there are so many sources of information, how do you know who is credible? And with Type 1, everyone responds to the condition differently so don't take anyone's advice as gospel.
I think we are lucky to be living with a condition in a time where we have the ability to connect and communicate with others from around the world. I'd recommend the DOC to anyone who hasn't tried it out yet.
See you online!
Kris Wood lives in London and runs Diabetic Banana, his blog about life with Type 1 diabetes. He tweets @diabeticbanana . http://www.diabeticbanana.org
Over to you!
What's your experience of the diabetes online community? Has it helped or supported you? Do you think it's a positive voice for people with diabetes, or are there any downsides? Please comment on our Facebook page.