P rime Minister David Cameron hailed Abbott's breakthrough new glucose monitoring technology for diabetes care as a prime example of medical innovation driving growth and creating jobs in the UK's high-performing life sciences sector. Visiting Abbott's manufacturing site in his constituency (Witney), the Prime Minister met the Welsh scientist whose team developed the new FreeStyle Libre Flash Glucose Monitoring System, as well as young engineering and biomedical sciences graduates recently hired by the company to help meet anticipated global demand.
The new monitoring system is a revolutionary technology designed to eliminate the need for routine finger prick tests* by enabling glucose readings by swiping a handheld reader over a small sensor worn on the body that lasts up to 14 days, and automatically measures, captures and stores actionable glucose data for eight hours. The FreeStyle Libre system addresses a significant health need for patients and will be available for the 800,000** insulin-using people in the UK with diabetes to purchase from October.
Mr Cameron said: "Thanks to our strong science base, the UK is arguably the best place in the world for health technology developers and manufacturers to base themselves. I am personally delighted to see so many new jobs created in my constituency by a local employer bringing exciting new technology forward to improve the quality of life of people living with diabetes. It's a wonderful example of something made by our people, to help our people and indeed people all over the world."
Pat Cole, Site Director of Abbott's Witney facility, said: "We are thrilled to welcome the Prime Minister to our manufacturing site in Witney today. The launch of the FreeStyle Libre system marks an extraordinary milestone for those living with diabetes, as well as a key chapter in Abbott's UK history. Not only does this product herald a step change in managing diabetes by eliminating the need for routine, and often painful, finger pricking, it has also created jobs in Witney and added to the successful and growing life sciences industry in the UK."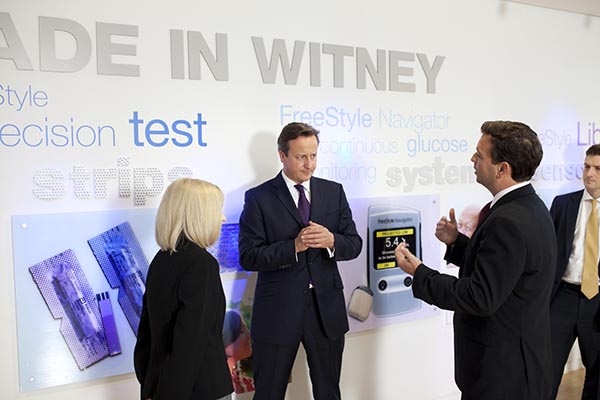 Devised by Abbott's global R&D team headed by British scientist Jared Watkin, the core element of Abbott's innovative FreeStyle Libre flash glucose monitoring system will be manufactured in Witney and exported across the globe. To adapt to manufacturing this new technology, the business has been reskilling existing staff, recruiting new ones and establishing a graduate programme in order to bring the best talent from science, research and engineering into Abbott at Witney. Four of the graduates recruited met the Prime Minister on the visit today.
Abbott's Witney manufacturing site is the largest employer in Mr Cameron's constituency, already producing more than 2 billion blood glucose test strips a year that are shipped all over the world. It is estimated that roughly one in 20 (3 million) people in the UK is living with diabetes. The 'Action For Diabetes' report published earlier this year stated that diabetes is estimated to have cost the UK £9.8 billion in direct costs in 2010/2011, equating to approximately ten per cent of the total health resource expenditure. It is estimated that 80 per cent of these costs are incurred in treating potentially avoidable complications***.
* A finger prick test using a blood glucose meter is required during times of rapidly changing levels when interstitial fluid glucose levels may not accurately reflect blood glucose levels, or if hypoglycaemia or impending hypoglycaemia is reported but the symptoms do not match the system readings.
** Diabetes UK at a glance, members summary 2010. http://www.diabetes.org.uk/Documents/Reports/Members'_survey_report_22.01.2010.pdf
*** NHS England 'Action for Diabetes' Hex et al. Diabetic Medicine 2012; 29:855-862