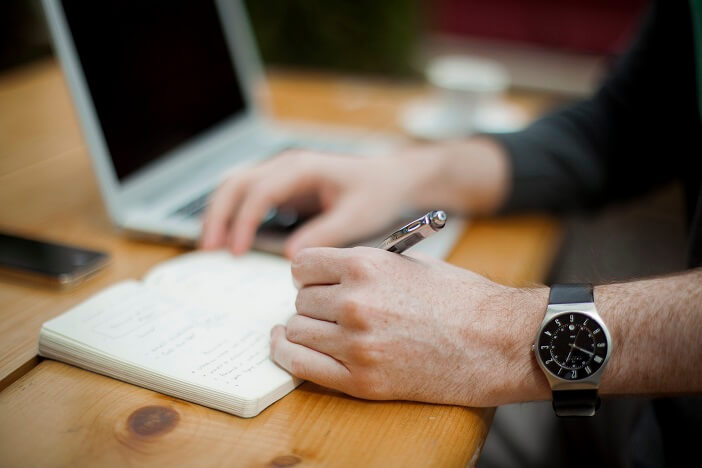 With 2017 just around the corner, it's time to start thinking about New Year's Resolutions. We all make them around this time every year, but a few months into the New Year we always tend to break them! Of course, when it comes to diabetes management it's important that you stick to your routine and guidance from healthcare professionals.
Here are 5 simple New Year's resolutions inspired by our diabetes team at Abbott. Let's see if you can follow them for longer than we can!

1. Exercise
This is always on lists of resolutions, but for good reason. Sport has plenty of health benefits, especially if you're managing diabetes, as working muscles lead to greater glucose uptake, helping towards lower blood glucose levels.1
It is important that you find something that you will enjoy doing. For instance, if you don't like going to the gym, then speak with your healthcare professional about what other activities might be suitable for you. The trick is fitting exercise into your everyday routines, as that way it's something that you just do, rather than plan to do.
There are loads of charity fitness challenges you can choose to get involved with as well. For example, Diabetes UK runs #Swim22 challenge, where they challenge you to swim the equivalent of the English Channel, between February and May. The best thing about this is any money raised will go towards diabetes research and you can do it at your own pace (ours would be very slow!).
If you don't fancy swimming then don't worry, there are plenty of other ways you can get into shape.2 Check out the Diabetes UK website for more ideas.

2. Learn to understand and control your diabetes effectively
Although it would be nice to maintain perfect glucose levels, there are so many variables that can affect your diabetes that unfortunately this isn't always possible.3 But there are ways in which you can learn more about what impacts on your glucose levels, enabling you able to control it better.
The FreeStyle Libre system allows you to see trends in your glucose levels, helping you to get a deeper understanding of your glucose patterns and variability. Claire's levels always jumped up and down for no apparent reason, however since using the FreeStyle Libre system she can better see where her levels are going. Her HbA1C has reduced from 105 to 58mmol/L!4

3. Learn how to understand your glucose levels
By checking your glucose levels regularly you will be able to better understand your trends and manage your diabetes. By using the FreeStyle Libre system, Sara felt like she was in complete control of her diabetes and her HbA1c came down from 86mmol to 46mmol. As well as this, her diabetes specialist team was able to recognise that she had 'Dawn Phenomenon' and was able to work towards preventing it.5 By using the FreeStyle Libre system you should hopefully feel more empowered to make smart decisions about your diet, activities or diabetes medication doses, based on the information it provides and your advice from your healthcare professional.

4. Be conscious of what you are eating
Making healthy food swaps, planning meals and knowing what you should eat are three easy tips to get you started. By eating a balanced diet, containing a variety of different vegetables, fibre such as whole grains, fruit, and substituting monounsaturated fats such as nuts, avocados and olive oil rather than eating butter or fried foods, you will receive the necessary nutrients that your body needs.6 It is important to discuss any diet changes first with your healthcare professional first though.

5. Give up a bad habit
We all have some sort of bad habit, however, some are more serious than others. For instance, smoking or drinking excessively could be seriously harming your health, especially if you have diabetes. If you have diabetes then having a smoke may double your risk of complications further down the line. 7 There is plenty of support out there to help you while you quit. For example, the NHS' smoke free website and helpline has a wealth of materials to help and support you. Cutting your alcohol intake could be another great habit to break in the New Year. By cutting down your alcohol intake to only one or two drinks a week, you can reduce your risk of having a hypo.8
Remember, when making your resolutions it is important to make sure they are realistic for you and have been discussed with your healthcare professional. Take things slowly and gradually make steps towards achieving your goals.

References
[1] https://www.diabetes.org.uk/keeping-active
[2] https://www.diabetes.org.uk/About_us/News/Get-help-to-turn-your-New-Years-resolutions-into-action/
[3] http://www.diabetes.co.uk/blood-glucose/what-affects-blood-glucose-levels.html
[4] https://youcandoit.freestylediabetes.co.uk/story/claire-b/
[5] https://youcandoit.freestylediabetes.co.uk/story/sara-b/
[6] /living-with-diabetes/food-and-drink/healthy-eating
[7] https://www.diabetes.org.uk/About_us/News/Get-help-to-turn-your-New-Years-resolutions-into-action/
[8] https://jdrf.org.uk/living-with-type-1/everyday-life/drinking/