All content was correct at time and date of publishing.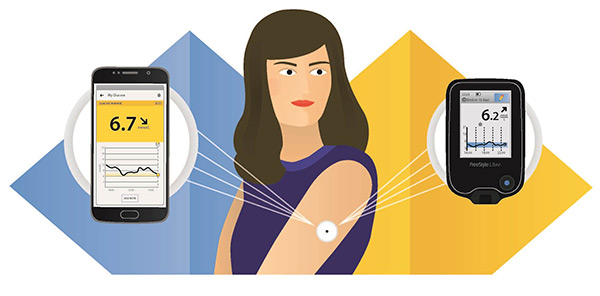 These days everybody seems to be using wearable electronic devices to help them meet their health goals. Products like the FitBit and Apple Watch caused a minor sensation when first launched as they help keep track of progress with exercise and fitness, calories burned and number of hours of sleep, eliminating the need for guesswork and estimation. The information gained from these devices assisted people in analysing patterns in their habits and performance, spotting areas for improvement and adjusting their routines accordingly.
Since their initial introduction, sleek and sophisticated electronic health-tracking devices have become more mainstream lifestyle accessories. However, they may also offer the potential for supporting people with chronic diseases.
People with diabetes face the constant challenge of maintaining their blood glucose levels within a narrow target rangei,ii. Until quite recently this has entailed regular finger pricking and analysis of the drops of blood using a blood glucose meter. While traditional blood glucose meters are themselves technologies, their dependence on finger pricks and test strips alone is beginning to make them seem outmoded in this digital age.
Diabetes is sadly becoming an increasingly common condition, such that those who live with it are no longer just a small group of affected individuals, but instead are now a sizeable subsection of the general populationiii. Living a life as close to normal as possible is a key aim for many people with diabetes, alongside achieving and maintaining good control of their glucose levels.
Introducing LibreLinkiv, for use with the FreeStyle Libre system
The FreeStyle Libre system is a cutting-edge glucose monitoring system developed for people with diabetes. A small sensor worn on the back of the upper arm measures the glucose levels in the fluid just beneath the skin called interstitial fluid. This information is collected by a device called a FreeStyle Libre reader, whenever the user scans the FreeStyle Libre sensor. Routine finger pricks are not needed (except in specific circumstances*) and the FreeStyle Libre reader generates a wealth of data about current and past glucose levels, patterns, trends, and the direction the levels appear to be heading. Empowered by this information, and together with their healthcare professional's guidance, users can make informed decisions about their insulin dosing, diet, exercise and other healthcare considerations.
To extend the versatility of the FreeStyle Libre system, the FreeStyle Libre reader can now be replaced with an Android smartphone equipped with a downloadable app called LibreLinkvi. Just holding the phone near the sensor triggers a scan and – as with the reader device – scans can be done through clothing.
The LibreLink app is supported by a cloud-based system where data is stored. If preferred, users can choose to alternate between using their Android smartphonev and the reader (initial set up in first hour of each sensor with both reader and phone is required). Information can easily be shared with healthcare professionals by emailing or texting the mobile reports from the app, or simply handing them the phone to view the information directly.

* A finger prick test using a blood glucose meter is required during times of rapidly changing glucose levels when interstitial fluid glucose levels may not accurately reflect blood glucose levels, or if hypoglycemia or impending hypoglycemia is reported or the symptoms do not match the system readings.
i. National Institute for Health and Care Excellence. 2015. Type 1 diabetes in adults: diagnosis and management. NICE guidelines [NG17]. [ONLINE] Available at: https://www.nice.org.uk/guidance/ng17. [Accessed 6 June 2016].
ii. National Institute for Health and Care Excellence. 2015. Type 2 diabetes in adults: management. NICE guidelines [NG28]. [ONLINE] Available at: https://www.nice.org.uk/guidance/ng28. [Accessed 6 June 2016].
iii. Diabetes UK. 2015. Facts & Figures. [ONLINE] Available at: https://www.diabetes.org.uk/About_us/What-we-say/Statistics/. [Accessed 6 June 2016].
iv. LibreLink is a mobile application, developed and provided by AirStrip. Use of LibreLink requires registration with LibreView, a service provided by Abbott and Newyu, Inc. FreeStyle Libre readers and sensors are provided by Abbott.
v. LibreLink app is compatible with NFC-enabled smartphones running Android OS 4.0 or higher.
vi. LibreLink app and the FreeStyle Libre reader have similar but not identical features. A finger prick test using a blood glucose meter is required during times of rapidly changing glucose levels when interstitial fluid glucose levels may not accurately reflect blood glucose levels or if hypoglycaemia or impending hypoglycaemia is reported by the LibreLink app or when symptoms do not match the LibreLink app readings