SMARTPHONE COMPATIBILITY GUIDE


Scanning FreeStyle Libre 2 sensors
To scan and receive alarms from FreeStyle Libre 2 sensors, your FreeStyle LibreLink app must be version 2.5.1 or above. Check if there is an update available in your app store.


Existing App Users
If you currently have the FreeStyle LibreLink app installed but your phone is not listed in the section below, do not delete and try to re-install the app. You can continue using the version you have on your phone. If you delete the app, you will not be able to re-install it unless your phone is compatible with the latest version.
Existing users moving to FreeStyle Libre 2 do not need to download a new app. Please update your existing FreeStyle LibreLink app to the latest version within your app store.
How to check your current app version:
Open the FreeStyle LibreLink app

Select 'About' either in the left-hand menu (iOS) or right-hand three dot menu (Android)

Check 'Software Full Version' to see the version number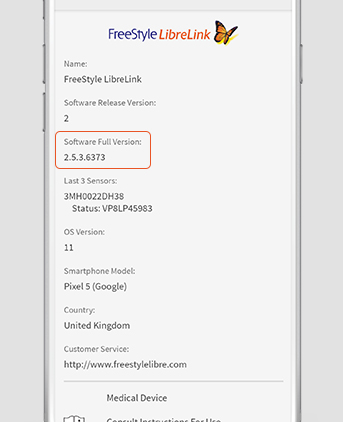 New Users - Phone Compatibility List

The latest FreeStyle LibreLink version is compatible with phones and operating systems listed below.
FreeStyle LibreLink (version 2.5.3)
iPhone Model:
7, 7 Plus, 8, 8 Plus, X, XR, XS, XS Max, 11, 11 Pro, 11 Pro Max, 12,
12 Pro, 12 Pro Max, 12 Mini, SE (2020), 13, 13 Mini.
Operating System (iOS):
13.2, 13.3, 13.4, 13.5, 13.6, 13.7, 14.0, 14.1, 14.2, 14.2.1, 14.5.1, 14.6, 14.7.1, 14.8, 15.0, 15.1, 15.2.1, 15.3.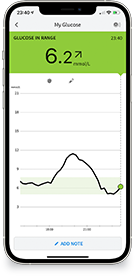 For more information, please check the Smartphone Compatibility Guide
Popular mobile devices and operating systems (OS) are regularly tested to evaluate NFC scan performance, Bluetooth connectivity, and app compatibility with sensors. We recommend checking this guide before installing a new OS version on your phone or before using the app with a new phone.
This list will be updated as other devices and operating systems are evaluated. For devices and OS other than those listed, Abbott's diabetes care division has not evaluated compatibility. Jailbroken devices and beta OS versions are not evaluated or supported.